An increasing amount of studies show that one of the best ways to cut down on stress is a good night's sleep. And, truly—what could be more helpful with that than a really great mattress?
First, you need to determine what type of sleeper you are. Side? Back? Stomach? This will help guide you on how soft or firm your mattress should be:
"Side and back sleepers tend to want a softer sleeping surface. This allows for their shoulders and hips to receive extra cushioning and will help avoid painful pressure points in those areas.

"Stomach sleepers often desire a slightly firmer sleeping surface so that they can keep their spine in proper alignment and prevent their back from bowing in too much." (via SleepTrain).
Also, you should determine if you have any troubles or pain you're dealing with on a regular basis. Achy in the morning? Stiff neck? Toss and turn all night? These could be signs that the mattress you have isn't right for you. Knowing what doesn't work for you can help point you in the right direction of what type of mattress you should be looking for. Image via earth911.
General Tips
o Don't rely entirely on expert reviews, firmness labels (they are not accurate), etc. What's important is that you feel comfortable on it.
o Firmer/softer is not better or worse. This depends entirely on you.
o Prices for mattresses can vary greatly, so you should feel comfortable sticking to your budget.
o Brands become well-known for a reason. Looking and relying on trusted brands can be helpful in narrowing down your search.
o Look for a good warranty! This is so important. You won't always be able to know if a mattress is 100% right for you until you start sleeping on it on a regular basis. Image via allseasonshomeimprovement.
Innerspring
"Innerspring mattresses are still by far the most widely used. They support you with coil springs, and in most built today, each coil is individually enclosed. This helps the bed weather years of use and prevents the coils from popping out of the mattress. On top of the coils are a wide variety of materials added for comfort, from pillow to latex to memory foam. It's all a matter of preference." (via WebMD).
o More coils doesn't always mean more comfort! Anything above 390 coils is unnecessary. On the other hand, if there aren't enough springs, you may wake up with back pain—so make sure you have at least a good amount.
o Spring mattresses can be firmer and generally work well for those that are older, overweight, and need more support. This also helps folks of these categories to get in and out of bed more easily.
o Can be prone to sagging. Inspiration Image via IKEA.
Memory Foam
"They are made of layers of different densities of foam that respond to weight and temperature, and are known for comfort because they contour to the specific shape of your body. Memory foam toppers are also available." (Via WebMD)
o This type of mattress removes pressure points, relieves pain, and absorbs movement
o Memory foam can be hotter than regular innerspring mattresses
o Memory foam is a particularly good solution for those that suffer from chronic fatigue/muscle pain
o The description of sleeping on one is often described as the feeling of floating, or being on a cloud. Image via dreamstime.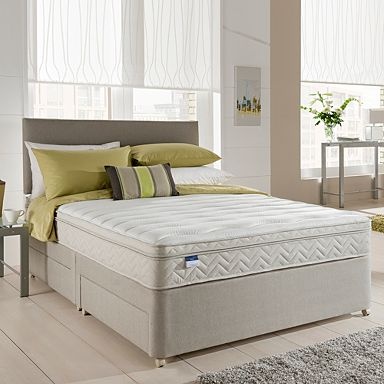 Latex
"Latex mattresses are made from either natural or synthetic rubber, and are known for providing a very firm, bouncy support that is uniform throughout the bed." (via WebMD)
o Firm and supportive—so if you don't like firm mattresses, this one is not for you
o Durable and environmentally-friendly
o Instantly responds to the contours of the body
o Last for a very long time
o Similar to memory foam, it is considered supportive and good at reducing aggravation of pressure points on the body
o Feels more "spring-y" Image via Debenhams.