We're back, as promised, with a gorgeous DIY Halloween centerpiece that is not only cost-effective, but so, so simple to make. Start your Halloween decorating off right with this—one of those dining room centerpiece ideas that's elegant and not too theme-y. The wrapped mason jars are reminiscent of mummies, while the spindly candles blooming out of the long vials are downright spooky and skeletal.
tools
The tools you need to make a DIY Glass and Candle Halloween Centerpiece (clockwise from top): 1) Long candles 2) Some pretty bottles 3) Burlap for the table runner 4) A set of spiderweb placemats 5) Tape 6) Tealights 7) Mason jars of varying sizes 8) Gauze
step one
Begin by wrapping the mason jars in gauze. Use tape to start, but we found the gauze sticky enough to stay without using tape at the end.
step two
Then, unfurl the burlap runner across the table, cutting it when necessary.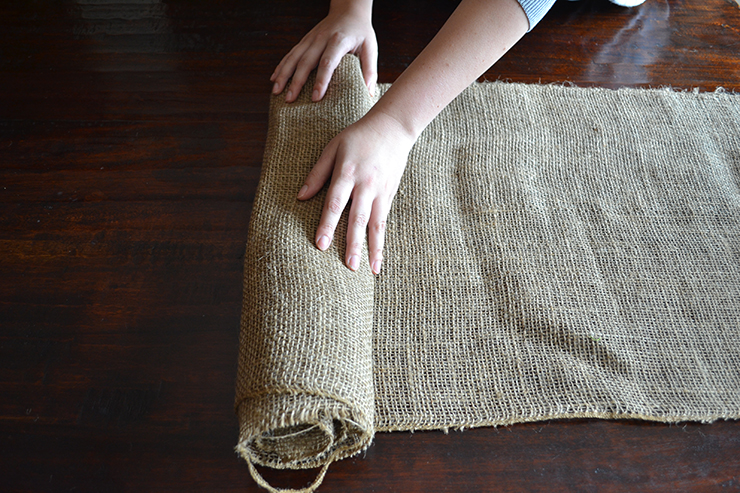 step three
Put the placemats in the center of the runner.
step four
Then, place the bottles in the center of the placemats.
step five
Arrange the mason jars across the placemats in between the mason jars. Be sure to pay attention to the sizes of the mason jars—one of our designers swears by only pairing objects of differing sizes.
step six
Place the tealights in the mason jars.
step seven
Place the long candles inside the bottle necks. If they are too thick, try twisting until enough wax shaves off to get it in (like sharpening a crayon).
step eight
Finally, light the candles.
step nine
And you're done! The best part is how the glow gets more lovely (and eerie) as the sun sets. Happy almost Halloween, folks! Get ready for the next part in our series of how to throw the best, nousDECOR-approved Halloween party next week!