The quest to beautify the things has been a longstanding one, from the great artists and philosophers of yore to the amazing interior designers and decorators of today. Luckily, now you have the chance to simply add a little window dressing to all facets of your life, thanks the do-it-yourself phenomenon. If you're looking for quick and gorgeous do it yourself decorating, we've got your back.
Image via Sarah Thorne
the inspiration
Our weekend project consisted of DIYing a set of drawers with a geometric pattern. We got the idea for the design from UK designer Sarah Thorne, whose stationary project we loved.
before
From the outset we knew we wanted to give the pattern on the dresser the same "dotted" feel as the envelope.
Here are the dresser's humble beginnings.
the tools
1) Small jars of paint (we picked up some samplers in ombre colors)
2) A paintbrush (one that is capable of doing "stippling," with a stiff, thick-set brush head)
3) Masking tape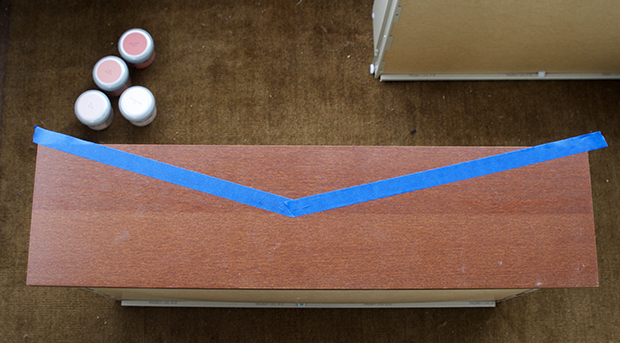 step one
Take the masking tape and, starting from the corners, pull down to the center, such that they create a "V" shape. Try to cut off a little of the corners as possible with the tape.
step two
Then create the same "V" shape on the opposite side, and repeat this for all the drawers.
step three
In order to achieve the effect we got, you have to stipple the paint. In order to do this, lightly dip your brush straight into the paint vertically. Use a sheet of paper to check for too much paint by dabbing lightly until the the brush has the amount of paint you need. Then, dab on the dresser drawer in an up and down or gentle motion from one side of the bristles to the other (as demonstrated here) into the left and right triangles created by the masking tape.
The effect of stippling.
step four
Keep going across the drawers in each of the different colors until done. Then, allow to dry.
step five
When dry, peel off the tape. (This is our favorite part).
And you're done!