Age 30—it's such a crossroads. Lately, the year just before it has gotten quite a bit of press as the signaling of a changeover period, where you are well aware of your transition from one state of life into the next, and are thus feeling a minor freakout. But by now, thankfully, you're over that. You've done all the panic-attack-driven last-ditch efforts to finish off those goals before you've hit this decade. You've learned quite a bit about yourself, and your home has grown with you through those messy, confusing years known as your 20's. You're well past feeling uncomfortable being yourself, scrimping every last dollar and trying to figure out your path. By now, your space should have a few signifiers indicating that—hooray!—you're finally hitting your stride. Your place should be forward-thinking, and reflect your newest chapter, effectively shedding evidence of a much younger, less wiser self. By 30, in regards to your home, we think it's just about time you've made the decision to...
Click here to discover more about this item and similar ones on nousDECOR.
1. Own a sofa that's NOT a futon.
Futons are great. They're functional, and, if not exactly comfortable, they work well in small-ish apartments. But by the time you're 30, they no longer make the cut. Redolent of years of adolescence spent eating ramen straight out of the pan and letting friends crash at 2 AM, they no longer convey the attitude you want your place to portray: that you're an adult now, and college was a long, long time ago. Speaking of college...
Click here to discover more about this item and similar ones on nousDECOR.
2. Get rid of (or upgrade) IKEA furniture you still have from college.
Still got a BILLY Bookshelf, LACK Side Table, MICKE Desk, and MALM Dresser that you once shared with roommates? Don't get us wrong—we love reasonably-priced IKEA furniture as much as the next person. But pieces with broken handles, chipped paint, peeling stickers, with a back that's been missing since you opened the package and discovered they forgot to add it to the one you bought, drawers you built upside-down and backwards and shrugged your shoulders and moved on—yeah, you don't need those anymore. If you do have pieces you've managed to keep relatively damage-free (congratulations, you are among .5% of all people that shop at IKEA), then the least you need to do is spruce them up via a unique twist, like pretty Anthropologie knobs on a dresser, or a good old-fashioned IKEA hack.
Click here to discover more about this item and similar ones on nousDECOR.
3. Have at least one investment piece that you're proud of.
Your 20's are a time for exploring, figuring things out, and ultimately transitioning from place to place literally as well as figuratively. With all that moving, it's understandable that you don't want to own anything you've invested too much in, lest someone less mature than you accidentally damage it or the moving process wreak havoc on it. But by 30, it's much more likely the place you've picked will be one you'll be in for a long haul, allowing you to finally start really thinking about the pieces that make your place special. You'll also now have to capital to start acting on those pieces you once pined for back in your 20's, so go for it. You're finally in a place where investing in one piece that really shows what you've accomplished makes sense.
Click here to discover more about this item and similar ones on nousDECOR.
4. Display a piece of art that's meaningful to you.
The era of cutesy posters, pieces of art picked up from the sidewalk, and faux-French-cafe chic is over. Now is the time to, you know, actually be aware of artists and have pieces that you appreciate for their aesthetic value and history rather than just because "it looks cool." This piece can be a statement-maker, too, because any time anyone asks you about it you won't look like a philistine plebe and instead will come off as the cultured, newly refined, 30-something you are.
Click here to discover more about this item and similar ones on nousDECOR.
5. Have an awesome, statement-making piece of vintage.
Even if you're not design-inclined, vintage pieces are the way to at least make it look like you are. And they add a bit of whimsy and charm to an otherwise plebeian-looking place outfitted with items from commercial retailers. Thirty is the age to really let your place sing your uniqueness/nerve/talent, and a piece with a vintage flair will let people know that you're definitely tapped in.
Click here to discover more about this item and similar ones on nousDECOR.
6. Sleep in a bed that's not a twin.
By age 30, your bedroom is your sanctuary. And your bed is where you rest, recharge, and generally prepare to lead your kicka** life. None of these things can be done well in a twin bed—trust. We'll firmly attest that as your life expands, so should your sleeping quarters.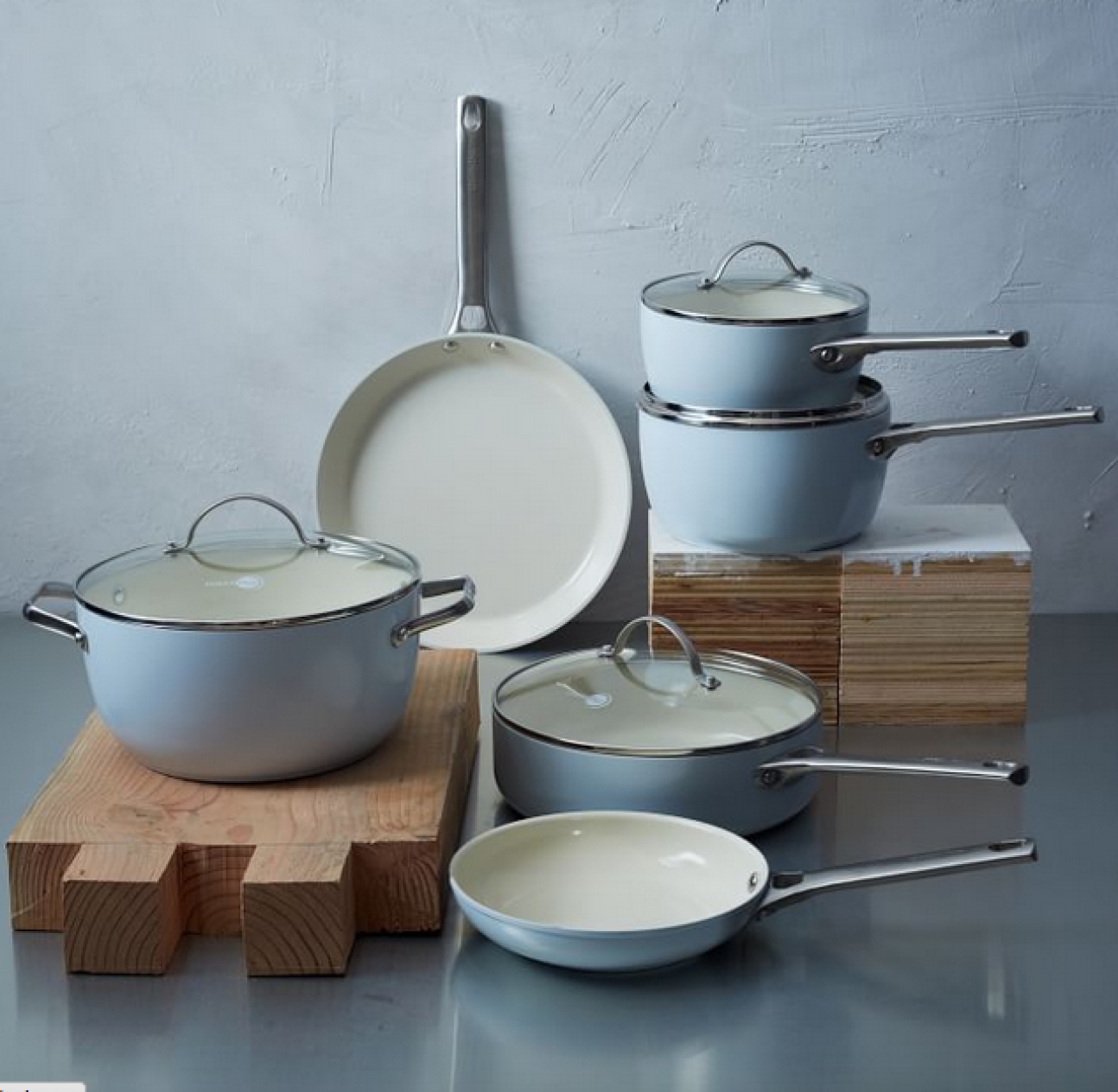 Click here to discover more about this item and similar ones on nousDECOR.
7. Cook with a nice, full set of pots and pans.
No, no more of that discombobulated set of mismatched pots and pans from who-knows-where. Presumably by now you cook more than pasta and will need a full-fledged set of cooking implements to do the work. A set of real, beautiful, lasts-a-lifetime cookware will take you leagues beyond your mac and cheese dinners (and will still give you the means to make them when you need to).
Click here to discover more about this item and similar ones on nousDECOR.
8. Cook from a qualified spice rack that contains more than Tapatio and salt.
We're not saying you will no longer need Tapatio and salt by the time you're 30 (those are the two pillars of life). But, like with the cookware—you're going to start needing some organized spices with which to cook, you know, real people food. A spice rack will put you in a position to start making meals that take time, energy, and forethought, which will make you conscious of what you're putting into your body. Because by 30, you're going to start needing to think about that. Yeah. A spice rack is also a gorgeous, grown-up addition to any kitchen counter.
Click here to discover more about the items in this look on nousDECOR.
9. Drink from a well-stocked bar cart that no longer contains plastic party drinkware.
By 30, plastic drinkware is out. You're making grown person cocktails with grown person alcohol now, all of which deserve real glass barware. We recommend a bar cart as a pretty way to organize all these. Now you can host classy parties that no longer include red cups, or fear that guests will break said glassware (hopefully).
Click here to discover more about this item and similar ones on nousDECOR.
10. Make your home smell like a signature-scent candle.
Over the last few years of your 20's, you've likely gravitated toward certain scents in candles and stuck by them even as others grew and waned in popularity. That's a way to tell you've honed a particular taste, which, much like perfume, is a signature reminder of you in your home. By 30, it's possible to say you have a signature-anything, as you've had years to refine your palette and find something that really resonates with you, and will leave that impression on guests, too. As smell is often cited as the strongest tie to our memories, that signature scent will long be remembered and define you as you enter your new decade of life.